How-to-Buy Men's Apparel
Style is only one part of choosing what you wear on the golf course or tennis court. As brands continue to innovate, advancements in technology, fit and performance make finding the perfect outfit for any occasion even easier - and more important.
What's your lifestyle?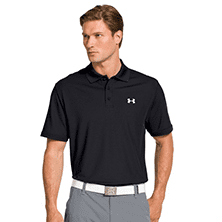 Sporty:
Active, athletic appeal. Puma, Nike, Under Armour, Adidas, Oakley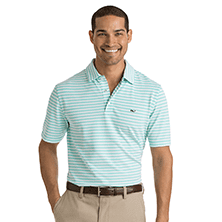 Traditional/Country Club:
Sophisticated style with elevated fabrics and details. Vineyard Vines, Polo Ralph Lauren, Footjoy, Cutter & Buck, Greg Norman, PING.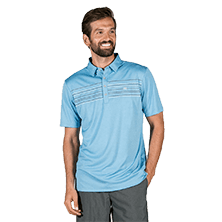 Updated:
Open to try new styles, trends,
colors or fabrics. Likes to have fun with fashion. Travis Mathew, Linksoul - Southern California Vibe; JLindeberg, Polo RLX - Updated with a slimmer more athletic fit. Galvin Green,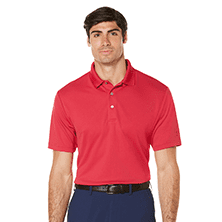 Classic:
Timeless style at a great value.
Polos: The on-course standard
Standard vs fitted: On a standard polo (the most common cut), the fit tends to be a little looser, with comfort in mind. Fitted polos run slimmer and contour to the body.
*The fit of the polo is normally indicated on the vendor tags.
When trying on a polo, make sure the seams properly align on the shoulders. The end of the seam should hit right at your shoulder blade. For a short-sleeved polo, the sleeves should hit mid-bicep and should not hug your arm. To check the fit, practice a mock golf swing to make sure you have the room and comfort needed to swing.
Pants
When shopping for bottoms, the PGA TOUR Superstore offers a variety of colors and patterns.
Sizing:

Shorts and pants are available from size 28 to 44, including size 33 and 35.
*Size options vary by vendor.

Inseams:

Most pants are available in three lengths: 30", 32" and 34". (PGA TOUR brand offers 29" inseams; PING offers 31" and 33" inseams)

Waistband treatments:

Whether it's a hidden stretch material, an all-around stretch waistband or stretch-fly closures, most of the top offer technology to increase comfort and mobility.
Clothing Tips for Every Weather Condition
Sun Protection:


Sun damage builds up over time. It is important to protect yourself daily, even on cloudy days. An easy way to protect yourself on the golf course is to wear clothing made with special sun-protective materials.

UPF stands for "Ultraviolet Protection Factor," and provides best protection from harsh sun damage.
Look for easy-to-identify "UPF" tags and stickers on clothing to see which items offer maximum protection.
UPF clothing is offered in every silhouette from a variety of vendors.
If you're looking for further protection, consider ultrathin long-sleeve layers. These sleeves are worn under your favorite tops, and provide ultimate, lightweight sun protection.
Sun sleeves are a pull-on style protectant made from a stretchy, light fabric that features moisture-wicking technology and provides UPF protection for your arms.
Don't forget head coverage! Visors and broad-brimmed hats help protect sensitive areas around the face and neck.




Rain/Wind:


Don't let unpleasant weather ruin your day on the course. Ensure you're ready for all of Mother Nature's treats by investing in the right gear for anything she throws at you.

Wind vests made of lightweight ripstop fabric deliver superior durability while providing protection against swirling conditions.
A long-sleeved or short-sleeved windshirt provides lightweight warmth and protection against a light rain or mist.
Waterproof rain jackets with taped seams and waterproof zippers offer the best defense to ensuring you stay dry and active.
Consider your rainy-season climate when deciding between a traditional full-zip jacket with a four-way stretch or a full-zip jacket with zip-away sleeves.
Rain pants range from X-Small to XL, and will have a looser fit since they are made to be worn in addition to other items.
Top it all off with a rainproof hat to keep your head dry.

Layering enables you to quickly adapt to changes in temperatures. Cold-weather pants with cutting-edge technology absorb and retains body heat, while a brushed-fleece lining provides warmth without the bulk.